Juntos se Puede. Together we can.

CENTRO LATINO DE SALUD PRESENTS: OBESITY PREVENTION THROUGH HEALTH LITERACY
2012 APRIL VEGGIE MONTH: MOVIE NIGHTS and DINNER.
Cost: Suggested $10 donations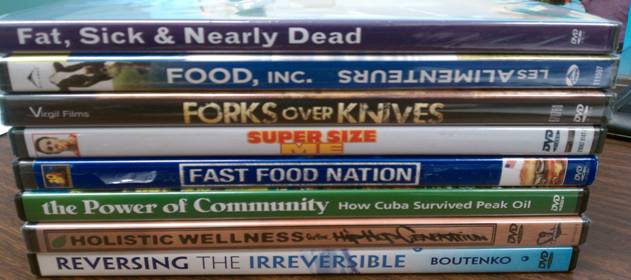 Friday 4-13-2012 @ 6pm SUPER SIZE ME : In SUPER SIZE ME, filmmaker Morgan Spurlock unravels the American obesity epidemic by interviewing experts nationwide and by subjecting himself to a "McDonald's only" diet for thirty days straight. 100 minutes.
Saturday 4-14-2012 @ 6pm FOOD, INC. : Food, Inc. lifts the veil on the food industry, exposing how our food supply is now controlled by a handful of corporations that often put profit ahead of consumer health, the livelihood of the farmer, the safety of workers and our own environment, Food, Inc. reveals surprising – and often shocking truths – about what we eat, how it's produced and who we have become as a society. 94 minutes.
Friday 4-20-2012 @ 6pm FAST FOOD NATION : Inspired by the bestseller that revealed the unpleasant truths behind America's fast food industry. When a marketing executive, Greg Kinnear, for the Mickey's burger chain is told there's a nasty secret ingredient in his latest culinary creation – The Big One – he heads for the ranches and slaughterhouses of Colorado to investigate…but discovers the truth a bit difficult to swallow. 114 minutes.
Saturday 4-21-2012 @ 6pmFAT, SICK & NEARLY DEAD : 100 lbs overweight, loaded up on steroids and suffering from a debilitating autoimmune disease, Joe Cross was at the end of his rope. Tipping the scales at 310 lbs, Joe saw a path laid out before him that wouldn't end well. FAT, SICK & NEARLY DEAD is an inspiring film that chronicles Joe's personal mission to regain his health. 97 minutes.
Friday 4-27-2012 @ 6pm FORKS OVER KNIVES : Forks Over Knives examines the profound claim that most, if not all, of the degenerative diseases that afflict us can be controlled, or even reversed, by rejecting animal-based and processed foods. 96 minutes.
Saturday 4-28-2012 @ 6pm REVERSING THE IRREVERSIBLE : While traveling around the United States and Canada teaching about the raw food lifestyle, Valya Boutenko has encountered many individuals who improved their health naturally. Inspired by their stories, Valya decided to film some of the most amazing turn-arounds and to share them with the rest of the world! 90 minutes.
Sunday 4-29-2012 @ 6pm HOLLISTIC WELLNESS for the HipHop Generation : This film is dedicated to all of those who are willing to thug, ride and freedom fight against the mind, body and soul sickness that we have internalized. This film is represented in three parts; mind, body and spirit/soul. Each being a vessel to motivate and inform the youth about the importance of liberating their minds, cells and stomachs from the clutches of disease. Before we can change and affect the world, we must first affect and change ourselves. 120 minutes.
Friday 5-4-2012 @ 6pm THE POWER OF COMMUNITY : When Cuba lost access to Soviet oil in the early 1990's the country faced an immediate crisis – feeding the population – and an ongoing challenge; how to create a new low-energy society. Cuba transitioned from large, fossil-fuel intensive farming to small, less energy intensive organic farms and urban gardens, and from a highly industrial society to a more sustainable one. 53 minutes.
For more information call Eduardo Crespi, RN, BSN 573-268-9533
Centro Latino: 609 N. Garth